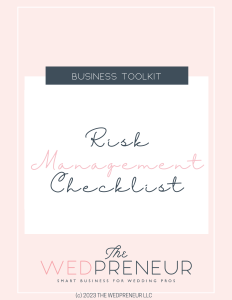 Download our "Risk Management for Wedding Professionals Checklist" today and take proactive steps to safeguard your wedding planning business while delivering exceptional service to your clients. Your peace of mind and the success of your events are just a click away.
🌟 At The Wedpreneur, we're committed to supporting your journey in the wedding industry. Get your free checklist and ensure that every wedding you plan is a resounding success, no matter what challenges come your way! 🌟
Note: The Wedpreneur is here to empower wedding professionals with the knowledge and tools they need for success in the industry. This checklist is just one of the many resources we offer to help you thrive in your wedding business.