What? We're going to talk money already?
You bet.  This is the MOST IMPORTANT step, and it's the one that is often skipped.  Big mistake. Huge.  Listen, you may not want to think about money, but guess what? You're about to be a business owner, and money is a huge part of that, so you'd better get used to it.
If you're thinking that you can start your wedding business with zero dollars, I want you to stop whatever you're doing and give your head a shake.  Yes, it's true that unlike opening a brick and mortar business, the initial investment required is small.  But you will still need some money to get started.  So if you have nothing saved, I strongly recommend that you start saving now!  You will thank me for this later, I promise.
I recommend having at least $5000 saved before you open your business.  Seems like a lot, right? In the scheme of things, it's really not.   Starting a business a huge life decision; you are going to want to be prepared and set yourself up for success. There are a lot of small (and some not-so-small) expenses that go into starting a business, and they will add up quickly.  Though you can certainly save up small amounts as you go along, I find that businesses that do this end up losing momentum in between steps.
If you don't have anything saved up and you're reading this, I don't want you to be discouraged.  Keep in mind, while you're saving, you can also start working on your business: you can start putting some of your systems and processes in place, doing market research, and most importantly, you can start developing your business plan, which we're going to talk about in Part 4 of this series.    Note: You may not have to budget for all of these expenses prior to launching, but you should being preparing for them as early as your first month.
Here are some of the expenses that are most commonly associated with launching a wedding business:
Professional Fees
One of the first steps in starting a business is putting together a team of professionals that will support you as you start your business and then while you are running it.  For most wedding business, these will include some or all of the following:
Lawyer (to draw up your contract, at the very least)
Accountant (especially during tax season)
Bookkeeper (unless you're realllllly good with numbers and will have the time to input your income and expenses on a regular basis)
Mentor/Business Coach (ok, this one isn't a must have, but obviously, I highly recommend it!)
Registration Fees
We'll cover what this entails in Part 3, but every business will have some expenses related to registering their business with their province/state and/or country.  Some of those expenses may include:
Name search fees
Registering your business (may or may not include additional professional fees, such as a lawyer)
Permits and licensing fees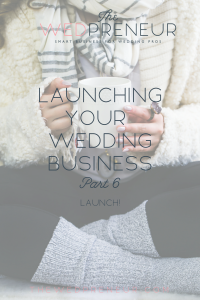 Office Equipment & Supplies
This one may seem obvious, but I'm going to mention it anyway.  In order to run your business, you're going to need some basic equipment.  Here are some of what you'll need to consider:
Desk and chair
Computer
Printer
Binders/Files/Folders
Filing cabinet
Decor/Accessories
Business phone line or cell phone
Paper, ink/toner, pens, etc
Software & Apps
I think that most wedding professionals nowadays will tell you that they use at least one, if not more, software programs to operate their businesses.  Here are some of the most common types of software programs that are used in our industry:
Accounting software (i.e. Wave, Freshbooks, 17Hats)
Client Management software (i.e. Infusionsoft, etc)
Graphic Design software (i.e. Canva for Work, Adobe inDesign)
Project Management software (i.e. Basecamp, Asana, Aisle Planner, Planning Pod)
Floor Planning software (i.e. Vivien, Microsoft something)
Social Media Management apps (i.e. Edgar, Hootsuite)
Scheduling software (i.e. Acuity, CoSchedule, etc)
Email Management (i.e. Mailchimp, Aweber, etc)
Brand & Website Development & Design
Listen up, wedding peeps!  Please, please do not DIY this section.  If you want to be seen as a professional in this industry, I strongly recommend that you work with a professional to develop your brand.  A brand is far more than just a logo and a website – it is the personality of your company, and it will be your #1 marketing tool moving forward.  Here are some expenses that you should plan for:
Brand Identity Development & Design (includes logos, colour palette, watermarks, typography, and more)
Website Design & Development
Website Hosting
Domain name purchase(s)
Email server/hosting (i.e. G-Suite)
Branded items (i.e. pens, notepads, stationery, thank you cards, etc)
Graphic Design
You may not be thinking this far ahead yet, but it's time to start thinking about both the marketing materials you're going to have available for potential clients, and the materials you're going to give clients once they start working with you. If you can, work with a graphic designer to create professional, on brand materials that represent your company appropriately.  Some items that are worth having your graphic designer develop are:
Promotional items (postcards, flyers, etc)
Social media graphics (cover images, posting templates, etc)
Business cards
Information packages
Client onboarding packages
Consultation templates
Design proposal templates
More….
Marketing & Promotion
One of the most asked questions I hear from new wedding professionals is: "how do I get clients?" The answer, my friend, is to market and promote your business like crazy.  You have to get your name out there, and if you have even a small budget to use for this, it'll go a long way.  Some ideas:
Facebook Ads/Boosted Posts
Instagram/Twitter ads
Wedding Magazine ads
Online wedding site listings (i.e. WeddingWire, the Knot)
Styled shoot (to build a portfolio)
Overhead
Even if you don't have an office outside of your home, there are some expenses that you will have to budget for.  The good news is, if you have a home-based business, you're already paying some of these, but now they are business expenses.
Rent/Mortgage payments (home-office or separate office)
Utilities
Vehicle expenses (mileage, repairs, maintenance)
Phone/internet fees
Business insurance
Launch Party
Ok, this one is definitely optional, but if you want to launch your business with a bang, what better way than to host a launch party?  The wedding industry is all about celebration, and we love a good party. This is a great way to put yourself in front of your soon-to-be colleagues in a fabulous way.
Venue
Food & beverages
Decor
A/V
Promo materials
Invitations
The above is a pretty comprehensive list of some things you  may need to launch your business.  Not every business will need all of them, and some businesses may need more, but what's important is that you determine your start-up business budget and ensure that you have some money set aside to do it right.  To help you get started, I'm including a freebie – a budget template to help you to figure out what you're going to need in your business, and how much you need to have saved up.  Enjoy!